As a proud sponsor of this year's Sitecore Symposium, Switch sends out a big thank you to the Sitecore team for hosting this outstanding event. This year marks a number of important milestones for Sitecore. Four acquisitions announced and major advances in next generation technology that allow marketers and developers to co-create and elevate brands by differentiating through hyper-relevant experiences for their customers.
---
Day 1 - Highlights
Announcing Winners From Sitecore Experience Awards
Congrats to Frasers Property & Switch Optimisation Team - Switch and Frasers Property Australia have been recognised at the Sitecore Experience Award (SEA) in the "Most Intelligent Content Optimisation" category.
The Sitecore Experience Awards 2021 recognise brands that have built truly customer-centric digital experiences with Sitecore technology.
Read about our entry here.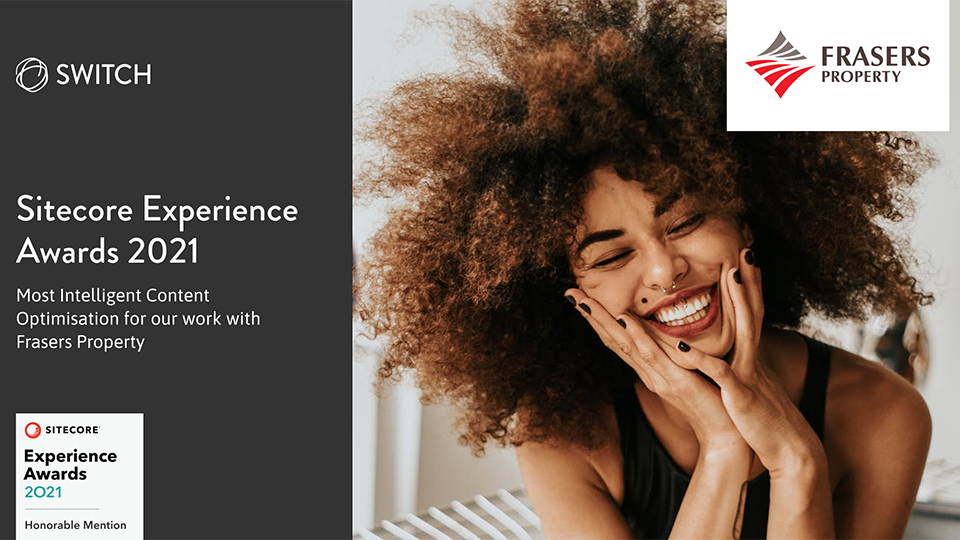 Steve Tzikakis CEO Sitecore - Vision & Future of Innovation
Sitecore is growing! And have new tools for the modern marketer - With major acquisitions made in the past 12 months, Sitecore squares off with SaaS solutions landscape with their composable platform for Content, Commerce, Search and Marketing Optimisation.
The composable DXP combines the best of breed approach, making Sitecore more scalable, accessible, flexible and more aligned to existing tech stack partnerships like Microsoft, Salesforce.
Sitecore continues its leadership in modern day cloud technology and will continue to invest in -
Micro-service platforms
Lower total cost of ownership
Flexibility and choice
Innovation focused
Paige O'Neill CMO Sitecore - Differentiate & Inspire Loyalty
Never before has the power of a personalised experience been so important! - The pandemic has changed consumer buying behaviours forevermore. The accelerated consumer purchasing online habits will live on beyond this lockdown culture. But the battleground for digital experiences perpetuates. Brand loyalty is in a rapid decline.
Top three priorities for consumers are now discounts, custom deals, personalised suggestions. And 56% of consumers will share browser history if they can get tailor offers from brands. Marketers need to find ways to connect through creativity and technology.
Day 2 - Highlights
Ready to modernise your tech stack. Here comes Sitecore's Modern Cloud DXP
Something for everyone, new or existing Sitecore customers - If you're an existing customer, the composable DXP is accessible to you right now and can help you fill gaps or harmonise your marketing tech stack.
For new customers, this is a great opportunity to complement your existing tech stack and modernise using Sitecore's Experience Cloud Headless technology.
In the digital world, it is a game of inches for digital marketers. Sitecore's new offerings for best of breed composable DXP is going to help marketers and developers push boundaries and make waves for the competition.
Re-imagining DXP with Experience Cloud & Frontend as a Service
Sitecore speaks about it's acquisitions and investment in R&D - Sitecore is re-imagining Digital Experience Platform (DXP) and what it means to their customers, partners and the wider community. Investment in R&D has increased by 50% with a laser focus on unifying the experience for marketers no matter what tech stack they already have. Allowing flexibility to adopt cutting edge development frameworks with less cost and more scalability than ever before.
Dave O'Flanagan: "Sitecore is a good neighbour in your technology stack".
Sitecore offers customers the freedom of choice to build on existing solutions or create new ones - Dream martech stacks can be accomplished with a combination of many tools and capabilities. There is always some existing technology in place, whether its Sitecore XP or Salesforce, Microsoft, SAP, or bespoke.
The Sitecore composable DXP platform means that marketers can level up their tech stack without making significant changes to core applications that they use today.
Sitecore Customer Data Platform (CDP) can bring personalisation and customer insights. Sitecore Ordercloud is a modern commerce cloud application that can hook into headless frameworks. Sitecore's Content Hub is revolutionising content marketing. Moosend scales with your marketing for automation ambitions.
All of these Sitecore products run on modern SaaS headless frameworks. The future of marketing and hyper-relevant digital experiences has never been closer. It is truly an existing era for Sitecore.
You can still access all recorded content until November 7th so don't forget to check out the sessions above and our interview with Ben Brooker from HIA.
General Manager, Digital, HIA
Switch's On-Demand Breakout Session
Translating a Sense of Belonging into a Digital Experience
In this session Housing Industry Association's GM, Digital, Ben Brooker along with Switch's Jonathan Holcombe and Andrew Davenport speak about turning a vision into a reality and the opportunity digital transformation created for Housing Industry Association and its 40,000+ members.
You can view this session here until November 7th.
What are you waiting for? Log in to the Symposium portal to learn how to create unforgettable digital connections!
Don't miss out
Subscribe for the latest news and events from our talented team and community network.