As a proud Sitecore Platinum Partner, it was fantastic to be back IRL (as the kids say) for Sitecore Symposium in Chicago this year!
Whilst debate continues about how business will be done in the future, it feels right to me to make the effort to travel on the right occasions and this was one of those occasions (carbon offset paid in full of course).
Not least because Switch was collecting an APJ Sitecore Experience Award with our customer Housing Industry Association (HIA) but more about that later, but also because this was Sitecore's return to in-person events following an extremely busy few years in terms of business acquisitions and super exciting product developments.
Switch and Sitecore have been partners for over ten years delivering very many superior customer experiences in APAC and as we value that partnership, we are also excited about Sitecore's business strategy and continued product evolution. Supporting them in Chicago is important.
To quote Steve Tzikakis, Sitecore's CEO who opened the event: "Symposium is an important event for Sitecore. It's, of course, a time to gather, reflect and celebrate with our partners and customers; but it's also time to energise our efforts and put an intense focus on what's next.. Our goal is to help brands navigate continued instability by ensuring the experiences they deliver to customers are positive, engaging and effective. Over the last year, we've made ambitious strides in delivering on our commitment to innovate and build the next generation of marketing tools.."
For some time now Sitecore has been prioritising building out a comprehensive product ecosystem across a diverse range of SaaS-based, cloud-native tools and services. Built on composable architecture, and supporting widespread integration and scalability across many technology industries and other well-known brands, this composable DXP approach makes so much sense for customers.
If you're not familiar with the Sitecore Composable DXP offer and would like to catch up, you can find lots of great content here https://www.sitecore.com/products or you can give us a call and we will be happy to book some time with you to familiarise you.
This new product offer has been developed to allow enterprise businesses to continue to evolve their technology stack to elevate customer experience and deepen customer engagement across all industries and regions.
And Sitecore Symposium was the occasion to build on that story, with even more new solutions offered and presented by Dave O'Flanagan, Sitecore's Chief Product Officer, whose enthusiasm for the products his team are developing and the Sitecore business strategy is truly infectious.
(As an aside Dave will be in Australia in November to talk about Sitecore's product offering so if you would be interested in attending one of his sessions, just reach out and we will make that happen for you).
Onto the new products launched at Sitecore Symposium...
As an overview from Sitecore -
The new solutions include Sitecore Search, an innovative AI-powered search and discovery function that provides marketers with a unified delivery system; Content Hub One, an agile, headless CMS that seamlessly combines content modelling, authoring and consumption into a single interface; and Sitecore Connect, a technology stack optimiser that allows brands to seamlessly connect Sitecore products to their existing infrastructure.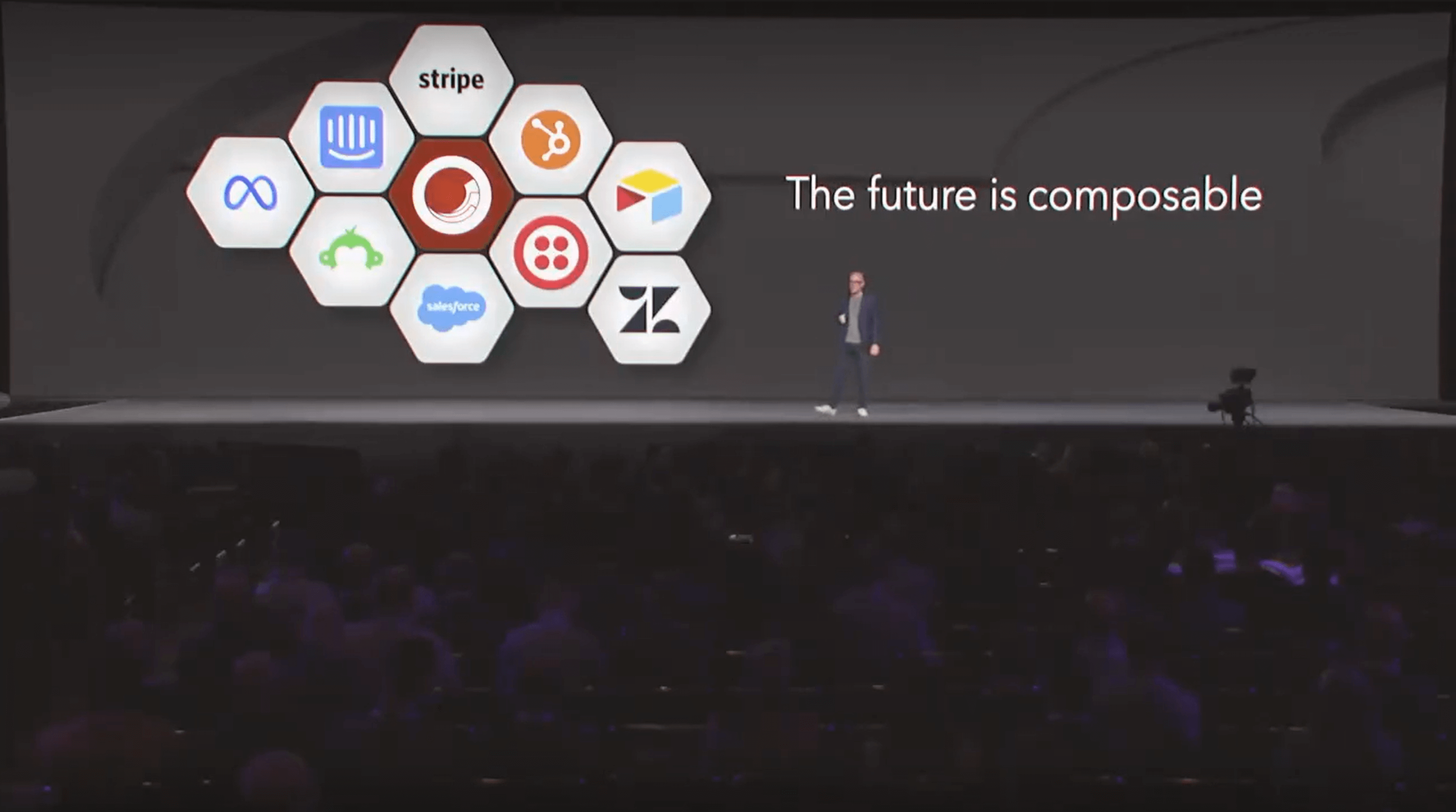 As Dave told us, Sitecore remains focused on innovating its product portfolio and there were more new product development flagged across commerce to come.
The newly launched Sitecore product offerings are detailed below with links to more information for those keen to know more now:
Sitecore® Search
As consumers look for new ways (and channels) to quickly find information that caters to them, the power of search and discovery has never been more important to brands. Facing a digital search transformation - especially with users evolving away from text toward other content types like video - marketers need an intelligent search capability that leverages AI.
And Sitecore Search was built for this transformative moment, offering marketers a unified delivery system that serves hyper-relevant content through AI-powered search.
With predictive, type-ahead capabilities that help users find results faster and an AI-engine that amplifies specific content based on strategic business objectives or in response to customer feedback, Sitecore Search is a transformative content discovery solution that customizes how content is matched, sorted, and promoted to mirror the specific needs of a consumer's search experience. This product is an intelligent plug-and-play solution that can be applied to an existing website in a matter of hours. Today, Sitecore Search powers Sitecore.com's search experience and will be available soon for all brands to implement.
Content Hub One
Realising the varying need of brands, Sitecore has adapted its robust Content Hub offering for brands looking for entry points into digital experience delivery versus a holistic marketing strategy. The result is Content Hub One a focused, agile headless CMS system that allows brands to launch and manage experiences on digital channels - e.g., web, mobile, smart displays, voice assistants, and marketplaces.
Content Hub One marries content modelling, authoring and consumption into one seamless platform giving developers the freedom to build frontends using any framework for data-driven content experiences, while allowing marketers to work in parallel to author content. This solution Is an entry point to the Sitecore content portfolio that allows customers - when they're ready - to upgrade to the full capabilities of Content Hub.
Sitecore Connect
Delivering on its promise of composability, Sitecore Connect - via a simple drag and drop UI - will allow brands to seamlessly and easily connect Sitecore products to an existing technology stack. With more than 1,000 connectors expected, Sitecore Connect will offer a low code / no code interface that will allow brands to build their own recipes or use the more than 400K community recipes expected to be offered through the product. Using Connect, brands can simply define a target system, set the flow and publish.
And whilst not technically a brand-new product at Symposium due to its earlier availability, a lot of time and content was also given to XM Cloud as a new star in the Sitecore product portfolio. More from Sitecore below:
XM Cloud
In addition to unveiling three new products, Sitecore also announce further enhancements to Sitecore Experience Manager® (XM) Cloud, the cloud-native, modern CMS that empowers brands to create, manage, and deliver content faster than ever. With this upcoming release, brands can expect XM Cloud updates and innovations such as new editing interfaces, native personalisation and testing capabilities.
There really was a lot going on! Combine this with dozens of customer showcases with practitioners sharing their expertise and digital transformation journeys, learnings and challenges and you had an exhilarating, brain-busting, jam-packed few days.
You always need some time and distance to reflect on a conference like this. To soak up what you've learned and how that knowledge will shape your planning for the future.
I think the real hero here though is the product story. There's more to read, demos available and all the help and advice you might want from Switch and Sitecore for readers who are keen to know more. Send us a message, we are super happy to help.
Now about that award.
I'm a fan of the business entering awards and here's why. What we do can be challenging. Even when it's not, the Switch team and the customer team ALWAYS work extremely hard together to deliver their best. The commitment between Switch and our customers is truly amazing. We love our team and we truly appreciate our customers. What we do together is inspiring.
So, when that work is judged by an independent third party as outstanding (in a very competitive field) then we definitely want to celebrate that.
It is fantastic that the Housing Industry Association leadership team feel the same and I had the privilege of spending time with our customers, Ben Brooker, General Manager, Digital and Kelly Tot, General Manager, IT as Switch and HIA received in person a Global Sitecore Experience Award in the "Best in Connecting the Experience" category for APJ!
It was a great opportunity to spend some quality time together, share ideas and plan for the future...and more than a few belly laughs were had! Attending the Sitecore Symposium was an experience of true value for me.
You can read more about the Switch and HIA award here.
And finally, I would also like to extend a very warm thank you to Hugh Darvall who is the Sitecore Partner Manager for Switch, and to his colleague, Dale James, VP of Partners and Alliances in APJ, for their duty of care in ensuring my Sitecore Symposium experience was certainly one to remember. And one where the next time we meet we are going to have even more fun recalling the stories!
Pictured: Andrew Davenport, MD, Switch and Dale James, VP of Partners and Alliances with Hugh Darvall, Partner Manager, Sitecore
A fabulous few days, and well worth the jet lag! Now back to that email backlog...
Don't miss out
Subscribe for the latest news and events from our talented team and community network.